Basic installation included
Assembly as specified by the manufacturer at a location chosen by the customer.
Moving the shipping kit up to 30 ft if necessary.
Hauling away packaging materials to a customer-designated bin.
Explanation of product features and required maintenance.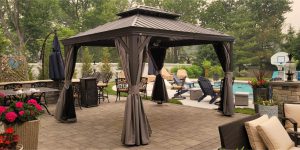 Additional services
Obtaining permits and passing all inspections.
Removal and disposal of an existing shade structure.
Haul away of packaging materials and soil.
Footing installation.
Supplying rough materials.
Anchoring the structure into an existing concrete base or pavers.
Attaching the structure to a building.
Restoring pavers, siding, and lawn.
Lights, walls, doors, outlets, fans, bars installation
Experience with all
brands
Our skilled gazebo installers at Kozel LLC have extensive experience assembling gazebos and shade structures from any brand. You can trust our team to quickly and securely assemble your chosen product, ensuring your satisfaction with the final result.
To receive advice on pricing, delivery, and other details, simply send us a link to your chosen item, and our every our handyman will be happy to assist you.
---
---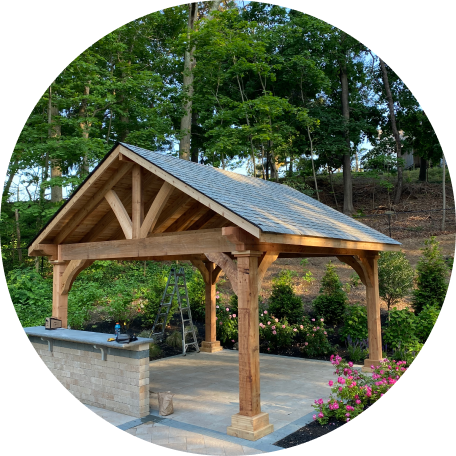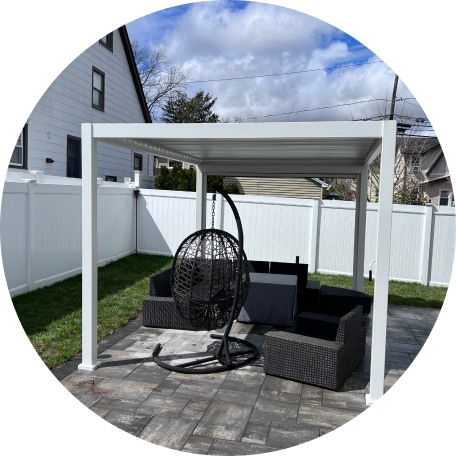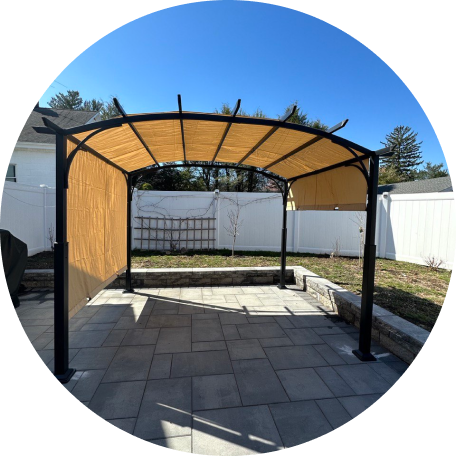 Pergola and Gazebo assembly services
Wooden Gazebo
Aluminium Gazebo
Vinyl Gazebo
Additional Types of Shade Structures
Requirements for Permanent Structures
Wooden gazebo and pergola assembly & installation
Wooden gazebos and pergolas are timeless classics, offering excellent resistance to weather and lasting for years. Trust our professional team at Kozel LLC to handle your wood gazebo installation so you can relax and enjoy the finished product.
Due to the heavy framing components, we typically send out a 3- or 4-person crew for assembly. Although most wooden gazebos come pre-painted, they do require regular cleaning and repainting.
Gazebo assembly can be time-consuming and challenging for beginners, so let our team of experts take care of the installation for you. We'll ensure that you have a unique outdoor space that lasts for years to come. Most gazebos and pergolas will take 1 days to complete, while non-standard struc-tures may require additional labor for assembly.
Aluminium gazebo and pergola installation & assembly
Steel gazebo or pergola installation and assembly are excellent solutions for those who want to en-hance their yard's appearance. Our professional assemblers at Kozel LLC will ensure that your new aluminum gazebo is reliable, safe, and visually appealing. You will be extremely satisfied with our services.
An aluminum gazebo or pergola with a metal frame is durable, reliable, and offers a unique design for your backyard.
We work with all major metal gazebo and pergola manufacturers. The assembly process is similar to that of wooden structures, but the materials used are steel or aluminum, making them more durable and lightweight.
Please note that most kits do not include the necessary anchoring hardware. You can also fill the legs with gravel to add extra weight and strength to the structure.
When assembling these gazebo kits, it's crucial to be mindful of the nuances involved. It is very easy to over tighten connection points and damage the assembly flanges or the product's finish. Our pergola installer will ensure a smooth and efficient process.
During the winter months, it's essential to take proper care of your gazebo or pergola to ensure its longevity. We recommend regularly removing snow from the roof to prevent damage or collapse due to the added weight.
Vinyl gazebo and pergola installation & assembly
Vinyl gazebos and pergolas are low-maintenance and easy to clean, making them an attractive op-tion for many homeowners. However, they often require a wooden or aluminum frame for proper support. Kozel LLC is here to help you with the installation and assembly process.
Be sure that your set include all lumber for frame as per the manufacturer's requirements
Every pergola or gazebo should be attached to a foundation or base for extra strength and rigidity. We always recommend a concrete footings, or at a minimum, setting the vertical supports with ce-ment.
Once assembled, the only maintenance is to pressure wash your vinyl pergola regularly.
Most gazebo or vinyl pergola installations take 1-2 days to complete, depending on the foundation choice. Trust Kozel LLC for efficient, professional pergola or vinyl gazebo assembly, so you can enjoy your new outdoor space with peace of mind.
Additional types of shade structures, pavilions, soft top gazebos, canopies, patio awning installation & assembly near you
Home improvements and handyman Kozel LLC offers a range of services for other shade structures, like pavilion installation, to enhance your outdoor living experience.
Soft Top Gazebos: These structures feature a simple kit that allows for faster assembly. Soft top ga-zebos provide an excellent source of shade and cooling on hot days. Trust our expert team to quick-ly and efficiently install your soft top gazebo.
Canopies: Canopies come in various designs, colors, and sizes, allowing you to choose the perfect option based on your needs and the number of guests you plan to host. Our experienced team will help you select and install the ideal canopy for your outdoor space.
Patio Awnings: Enhance your patio with a stylish and functional awning installed by our skilled professionals. We'll ensure that your patio awning provides the perfect amount of shade, comfort, and visual appeal.
To request a quote for any of our installation and assembly services, simply contact Kozel LLC. Our team will promptly respond and work with you to create a customized solution for your outdoor shade needs. Trust Kozel LLC for top-quality shade structure installations that are both efficient and reliable. Contact us, if you live near NJ or NY.
To ensure the stability and longevity of your gazebo, pergola, or pavilion, it is essential to prepare a proper base. Here are the common base requirements for these backyard structures:
Permits and regulations: All permanent structures require obtaining zoning permits and construc-tion permits from your local building department. We can help with all paperwork and prepare all sketches as needed. Check with your local building department for any permits, inspections, or specific requirements regarding gazebo or pergola installation in your area.
Foundation: The foundation of your gazebo or pergola must be made of concrete, as required by building codes. No slabs, decks, or pavers are allowed in this case. If you need a custom design or special accommodations for your gazebo or pergola, you can order architectural plans from a li-censed architect to ensure compliance with all regulations and requirements.
Level ground for ground installations: If you decide to install your gazebo or pergola directly on the ground, asphalt, pavers, concrete slab or patio, the area should be level to provide a stable foundation. Uneven base can lead to structural instability and cause issues with the assembly pro-cess. Your structure will only be as square and level as the surface it sits on. Some manufacturers may allow ground installations, but these might not follow building codes.
Anchoring: Securely anchor your gazebo or pergola to the base using appropriate hardware to prevent shifting or damage due to strong winds or other forces. This step is crucial in ensuring the safety and stability of your outdoor structure throughout its lifetime.
Frequently Asked Questions
What do I need to do before my technician arrives?
1. Clear the area of any obstructions such as trees, bushes, furniture, grills, etc.
2. Check the condition and quantity of the supplied kit and boxes.
3. Provide a clear area that is at least one foot larger than the dimensions of your gazebo on all sides.
4. You can mark the corners of your gazebo location using stakes in the ground or tape.
5. Provide free access to the site and restrict access to unauthorized people, children, and animals.
6. Provide the user manual and any necessary permits.
How level should the assembly location be?
The surface on which your gazebo will be located should be as level s possible. If the ground is curved, the same will be the construction.
What if technicians found some damages on the gazebo during installation?
If any damages are found during the gazebo or pergola  installation, our gazebo builders will immediately inform you so that you can discuss a further action plan.
Do you anchor down the gazebo after the installation?
We offer anchoring as an additional service, which can be discussed and confirmed before the start of the work. Please note that most kits do not include the anchoring hardware necessary.
I have problems with gazebo after installation?
If you experience any issues with your gazebo after installation, please contact us as soon as possible. Our manager will gather all the necessary details and get in touch with the responsible technicians to determine the cause of the problem. In case we are unable to resolve the issue remotely, we will send our technicians to your location to assess and address the problem. While we are experts in assembly, we do not manufacture the kits and are not responsible for any manufacturing defects or issues. We are responsible for our labor, and we will do our best to address any problems that arise during or after the installation process.
Are concrete footing installations offered?
Yes, we do offer concrete footing installations. However, the cost of footings can easily cost more than the gazebo assembly. And it is required by codes.
Anchoring with metal sticks into the ground works?
Proper gazebo or pergola installation services requires following building codes and regulations.
However, if you choose to deviate from the manufacturer's original set or opt for a different installation method, we cannot guarantee the stability or longevity of the structure. We highly recommend following the manufacturer's instructions and consulting with our team to ensure proper outdoor pergola installation and adherence to building codes.