Discover Top-Notch Plumbing Repairs Near You in New Jersey: Dependable Solutions for Residential and Commercial Needs
In search of reliable plumbing repair services of independent plumbers near me? Our local team is well-versed in common residential and commercial plumbing services by diagnosing issues accurately and providing effective solutions for homes. Our handymen understand individual plumbing challenges specific to your area in New Jersey and can provide prompt assistance.
Jobs we specialize in
Our local handyman company delivers cheap and effective solutions for small plumbing jobs in your area. Finding the right plumbing repair service for these small jobs can help maintain the functionality of your home and prevent further complications. We specialize in:
Basement Drain Repair and Replacement
Our experienced professionals conduct a thorough assessment and inspection of your basement's drainage system to identify the extent of the damage and determine whether repairs or replacement are necessary. In cases of severe damage, corrosion, or when the existing drain system is outdated and inadequate for effective water management we will provide a lasting solution.
Drain Repair and Replacement
Common drain issues like clogs and minor leaks can often be repaired. In cases repairs are no longer effective or the drain is severely corroded or dated for your needs we will offer a replacement to protect your home's structural integrity.
Water Valve Repair and Replacement
Common water valve issues, such as leaks or difficulty turning, can often be repaired by replacing faulty components or addressing corrosion. In cases of severe corrosion or damage, frequent repairs or old valves may no longer function effectively our plumbers will suggest a replacement to minimizes the risk of water damage to your home.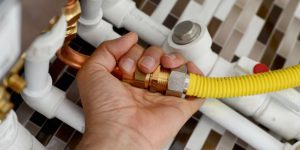 Pipe Insulation
Our plumbing services offer expert pipe insulation installation, ensuring proper coverage and effective insulation. Depending on specific case our plumbers use various methods – pre-formed, blanket, spray foam insulations.
Faucet Repair and Replacement
If you face faucet problems such as consistent dripping even when the faucet is fully closed, water leakage from the base of the faucet, insufficient water flow when using the faucet don't hesitate to contact us to get timely faucet repair and replacement.
Sink Repair and Replacement
Our professional plumbers assess the condition of sinks, considering factors like the extent of damage, type of sink, and feasibility of repair. Our sink installers have significant experience in using different materials such as stainless steel, porcelain, composite, and natural stone.
Sump Pump Repair and Replacement
Our expert team offers expertise in accurately diagnosing, repairing, or replacing sump pumps, ensuring effective basement protection. If you have encountered problems like water accumulation in the basement or around the sump pit or strange sounds coming from the sump pump during operation reach us out to timely address the issues.